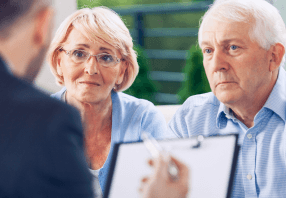 The Official Legal Partner of Mesothelioma Hope

Get a Free Legal Consultation
Request a free case review from top mesothelioma law firm Simmons Hanly Conroy. Our trusted legal partner can handle your claim so you can focus on your health and loved ones.
Over $30 billion available
No cost to file a claim
Avoid going to court
$9B recovered for victims
20+ years of dedicated experience
6,000+ families helped
Get a Free Legal Consultation
How Do I File a Mesothelioma Claim?
2. Let the Firm Handle the Rest
Simmons Hanly Conroy will build your claim while you focus on your health and family.
3. Receive Compensation
Many clients start receiving compensation within 90 days of filing their claim.
"Filing the lawsuit was easy because Todd, my attorney, made it easy. We didn't have to do anything. Hiring Simmons Hanly Conroy was the smartest thing we ever did."

- John Stahl, Stage 4 Mesothelioma Survivor
Simmons Hanly Conroy Past Successes
$250M for an Indiana Steel Worker
$60M for a Missouri Roofer
$40M for a California Laborer
$34.1M for a U.S. Navy Veteran
Why Choose Simmons Hanly Conroy?
Simmons Hanly Conroy is made up of experienced attorneys, U.S. military veterans, caring registered nurses, and individuals who have served in blue-collar industries.
The firm was founded under one mission: "To put clients first."
Dee and John Stahl reached out to Simmons Hanly Conroy, a mesothelioma law firm, to pursue justice after John's stage 4 mesothelioma diagnosis. View Transcript.
Duration: 4 min 40 sec
Dee Stahl:
The day started out fine. We got up and John, which is unusual for him, just came out of the bedroom
and just sat down and he said, "I just don't feel good," and I knew something was wrong because John
doesn't complain. I said, "Well, I think we should probably go to the ER."
They found out that there was over two liters of fluid on his left lung and they were amazed that he was
even able to breathe, period. They did a CAT scan then that's when he just said, "You have stage four
mesothelioma, John."
John Stahl:
I was kind of blank. I didn't know what to think. I didn't realize that my job had exposed me to this.
Dee Stahl:
We're the Stahls. I'm Dee, and this is my husband, John.
John Stahl:
My name is John Stahl. I was first exposed to asbestos poisoning through the construction business,
through Sheetrock, through gaskets and piping all through my career, and I worked 43 years in construction business. If you don't work, you don't get paid. The first treatment was with chemotherapy and I went every two weeks. It didn't take long, an hour or so, but it'd take me seven to 10 days to recover. That was hard for me because I'm a pretty active person.
Dee Stahl:
Asbestos is poison and it's a prescription for death.
John Stahl:
Yeah.
Dee Stahl:
I don't know …
John Stahl:
It's not curable.
Dee Stahl:
Right.
John Stahl:
Well, at first it didn't really sink in. The longer and longer I thought about it, it's going to end my life
eventually, but I'm going to live it as well as I can.
Dee Stahl:
It made me mad and sad to think that these manufacturers could continue knowing that there was
asbestos that could hurt people, continued to make these products for how many years, years and years, and look what it's done to the love of my life.
It's heartbreaking. We filed a mesothelioma lawsuit because John deserves it. We found out about
Simmons Hanly Conroy when we received a letter introducing us to Todd, and within days, couple of
days, Todd called and we just clicked.
John Stahl:
Filing the lawsuit was easy because Todd made it easy. He explained what was going to happen. It was
pretty simple.
Dee Stahl:
It's been fantastic. I can't put into words because anytime Todd would call, it was, "How's John doing?
How's my buddy John doing and how are you doing?" He just made you comfortable. It was a great
experience.
John Stahl:
My kids are gonna be taken care of, Dee's gonna be taken care of, so it's a peace of mind knowing that I
don't have to worry about them going down the road.
Dee Stahl:
I want people out there to realize that there is help and they can get assistance and get a settlement
from these manufacturers that continue to use this and know that it was dangerous for people.
John Stahl:
We filed a mesothelioma lawsuit to hold companies accountable. It's important people understand that
there's help and there's people there willing to help them go through this process of making these
companies liable for what they've caused.
Award-Winning Experience
Simmons Hanly Conroy attorneys and staff adhere to principles of compassion, honesty, and trustworthiness. When you work with them, you won't just get legal help from a leading mesothelioma law firm — you will get lifelong friends and advocates.