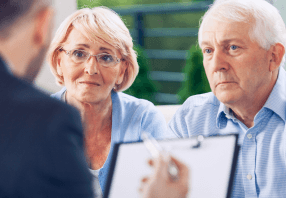 The Official Legal Partner of Mesothelioma Hope

Get a Free Legal Consultation
Get a free legal consultation from the top mesothelioma law firm, Simmons Hanly Conroy. They will handle your mesothelioma lawsuit so you can focus on what's most important, your family and your health.
Get money quickly (in as little as 90 days)
$1+ million average award
No out-of-pocket costs
$8.5B recovered for victims
20+ Years of dedicated experience
6,000+ families helped
Get a Free Legal Consultation
How Do I File a Mesothelioma Claim?
2. We Handle the Rest
We'll build your claim while you focus on your health and family.
3. Receive Compensation
Many clients start receiving compensation in as soon as 90 days after we file their claim.
"The firm makes you feel like you're somebody, and like you do matter… They're humans too, they're just trying to help. They've become good friends, even family."

- Bob Guinn, Mesothelioma Warrior
Simmons Hanly Conroy Past Successes
$250M for an Indiana Steel Worker
$60M for a Missouri Roofer
$40M for a California Laborer
$34.1M for a U.S. Navy Veteran
Why Choose Simmons Hanly Conroy?
Our staff is made up of experienced attorneys, U.S. military veterans, caring registered nurses, and individuals who have served in blue-collar industries. When you work with our firm, you will have a committed and skilled team standing beside you.
Simmons Hanly Conroy was founded under one mission: "To put clients first."
Dennis, a victim of mesothelioma, talks about his journey from diagnosis to filing an asbestos claim. View Transcript.
Duration: 2 min 48 sec
The specialist called me one night at 5:30 and I thought, "this is odd time for them to be calling me."
He said, "Dennis, I have the results for your test."
And my reaction was, "Oh, good. What do you got?"
He didn't speak for like five or seven seconds and I thought, "Oh my god, this is it."
And he said, "The results from the biopsy are you have mesothelioma, you've been around asbestos."
They determined I had peritoneal mesothelioma, that means it's mostly in my stomach.
I asked her, "How long am I going to live, doctor?"
She told me, "I see five to ten years and I will hope for ten to fifteen."
So I thought, "Oh my god, I just lose my dad three months earlier, now I got cancer."
I had fun being a mechanic. The dust from brake jobs, yeah there's a lot, especially in the hub of the wheel; got to get all the dust away so you can put in the new stuff.
I knew there was asbestos in it but I didn't know it was harmful. I didn't know it would cause cancer.
Do I call the attorneys? I didn't know I would get these benefits. It's helped complete our – make our living financially, we would have been in Hell in high water without these benefits.
I had a legal team on my side in two or three days I believe, and I was very comfortable.
They were real people and they came to my house. They treated me like a person, not a number. They took care of every step and they explained to me the steps that would be taken and as time went on, they needed to they would call me on the phone and let me know and it was a good experience.
If someone was diagnosed with mesothelioma, as I was. I would tell them, first of all, you need help like I did. We were given something we were never warned about, that asbestos was in the things we worked with.
They made it very personal for me in a good way. For my wife, and kids and my family, they really helped me and they treated me like a person.
Our Award-Winning Experience
Simmons Hanly Conroy attorneys and staff adhere to principles of compassion, honesty, and trustworthiness. When you work with us, you won't just get legal help from a leading mesothelioma law firm — you will get lifelong friends and advocates.