Do Aircraft Carriers Have Asbestos?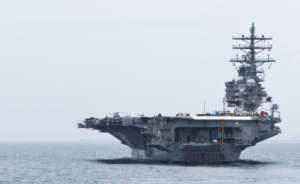 Yes, many older U.S. Navy aircraft carriers and other ships were built asbestos — a cancer-causing substance.
Many aircraft carriers used asbestos, including these designations:
CVA: Attack aircraft carriers
CVAN: Nuclear-powered attack aircraft carriers
CVB: Large aircraft carriers
CVL: Small aircraft carriers
CVN: Nuclear-powered aircraft carriers
CVT: Training aircraft carriers
CVS: Anti-submarine warfare support aircraft carriers
Asbestos exposure can lead to life-threatening health problems like mesothelioma, lung cancer, or asbestosis. Veterans that served aboard aircraft carriers and other Navy ships are at very high risk. In fact, 33% of all mesothelioma cases stem from U.S. Navy or shipyard asbestos exposure.
Fortunately, U.S. Navy veterans who were exposed to asbestos on aircraft carriers and developed mesothelioma can take action. The U.S. Department of Veterans Affairs (VA) offers financial benefits and medical care. Navy veterans can also access more financial compensation from private claims.
Mesothelioma Hope can help you pursue VA benefits and other forms of assistance now. Download our Free Veteran Compensation Guide to learn more.
Why Was Asbestos Used on U.S. Navy Aircraft Carriers?
Asbestos was used on aircraft carriers because it was a good insulator, cheap to buy, fire-resistant, lightweight, and soundproof. In particular, the U.S. Navy wanted to reduce the number of serious fires on its aircraft carriers and used asbestos insulation to do so.
Products made with asbestos could be found on flight decks and all of the aircraft that made up Navy carrier air wings, including planes and helicopters.
Today, asbestos is no longer used to build any new military planes, ships, or other assets. However, veterans are at risk of mesothelioma today if they served aboard aircraft carriers that used asbestos decades ago. This cancer takes 10-50 years to develop after asbestos exposure.
List of U.S. Navy Aircraft Carriers That Used Asbestos
Roughly 60 U.S. Navy aircraft carriers are known to have used asbestos-based products.
These U.S. Navy aircraft carriers had asbestos-containing products onboard:
Even if the aircraft carrier you served on does not appear on this list, you still may have been exposed to asbestos. Further, many other U.S. Navy ships also used asbestos.
We can find out if you were exposed to asbestos while serving in the U.S. Navy and help you pursue VA benefits. Connect with one of our caring Patient Advocates to learn more.
Asbestos-Containing Products on Aircraft Carriers
The U.S. Navy used more than 300 asbestos-containing products to build its ships between 1940 and 1979. This means that asbestos on aircraft carriers was often widespread.
Asbestos-containing products on aircraft carriers included:
Some of these products may still be found on older U.S. Navy aircraft carriers or shipyards today, even after wide-ranging military programs to remove asbestos.
For example, several docks at the Puget Sound Naval Shipyard in Washington state still contained asbestos as of 2019. Some of the shipyard's docks were made to fit Nimitz-class nuclear-powered aircraft carriers.
High-Risk Asbestos Occupations on U.S. Navy Aircraft Carriers
Anyone who served aboard U.S. Navy aircraft carriers when asbestos was in use could have been exposed. However, some service members were at a higher risk than others depending on their occupations.
High-risk jobs on U.S. Navy aircraft carriers included:
These roles put Navy service members in direct contact with asbestos-containing products on a daily basis for long periods of time.
Request your Free Mesothelioma Guide to learn more about high-risk asbestos occupations and how to get help after a mesothelioma diagnosis.
Help for U.S. Navy Veterans With Mesothelioma
U.S. Navy veterans who were exposed to asbestos on aircraft carriers could be at risk of mesothelioma later in life. Though a mesothelioma diagnosis can be shocking and scary, help is available.
Veterans with mesothelioma can:
Access medical care: Though mesothelioma is a rare cancer, there are specialists around the country who can treat it. Veterans can receive medical care from some of these doctors through the VA Health Care System.
Apply for VA benefits: By applying for VA benefits, veterans can receive monthly financial payments to cover medical bills and living expenses. These benefits can also help provide for spouses, children, and other loved ones.
File a private mesothelioma claim: Veterans can pursue compensation by filing a private mesothelioma claim through the legal system. These claims demand compensation from the makers of asbestos-based products, who knew the dangers of asbestos but hid them. No action is taken against any branch of the U.S. military or government.
Our team of fellow U.S. veterans, caring Patient Advocates, and VA-accredited legal staff is here to help you pursue all the benefits listed above. Call us now at (866) 608-8933 or download your Free Veterans Compensation Guide to learn more.