Filing a Mesothelioma Claim in Kentucky
Residents of Kentucky who have an asbestos-related disease such as mesothelioma may be eligible to receive compensation.
If you've been diagnosed with mesothelioma: Get a Free Legal Case Review Now
More than 400 people have died in Kentucky as a result of mesothelioma, according to the Centers for Disease Control and Prevention (CDC).
In 2016, the most recent year for which there is information, there were 30 new cases of mesothelioma in Kentucky and 24 deaths.
Companies operating in Kentucky imported asbestos by the ton to insulate heavy machinery in factories. Suppliers knew the dangers ahead of time but still provided Kentucky-based companies with asbestos-containing products.
If you were diagnosed with mesothelioma and have a history of asbestos exposure, reach out to a Kentucky mesothelioma lawyer. These experienced attorneys will fight on behalf of victims in hopes of securing the compensation they may deserve.

Kentucky Mesothelioma Law Firm
As one of the nation's largest mass tort law firms, Simmons Hanly Conroy is dedicated to helping people injured through others' negligence, such as those exposed to asbestos who have been diagnosed with mesothelioma.
The mesothelioma attorneys at Simmons Hanly Conroy have centuries of combined experience, and they aim to provide their clients with first-class legal services.
Asbestos Exposure Sites in Kentucky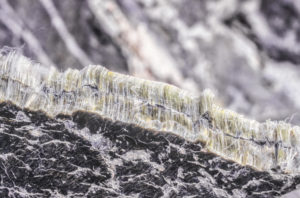 Kentucky is famous for its coal mines, factories, and military bases — all locations that are associated with a high risk of asbestos exposure.
Most, if not all, of the asbestos in Kentucky was imported from other states. In turn, historical exposure sites also include schools, factories, refineries, and other job sites.
Because asbestos was also used so widely in construction, any building predating the 1980s potentially houses the toxic mineral.
Below is only a partial list of job sites associated with asbestos exposure. In reality, there are more than 1,600 job sites in Kentucky where known asbestos exposure occurred.
Examples of asbestos exposure sites in Kentucky include:
Armco Steel, Ashland
The 800 Building, Louisville
Eastern State College, Richmond
Allied Chemical Corp., Ashland
Ashland Oil & Refining Co., Catlettsburg
Tennessee Valley Authority, Drakesboro
Kentucky State Office Building, Frankfort
1st Federal Savings & Loan, Franklin
John Graves Memorial Hospital, Georgetown
University of Kentucky, Hospital & Clinic, Lexington
Kentucky Power Company, Louisa
Louisville Fire Brick Works, Louisville
Rohm & Haas Co. Project, Louisville
Louisville Gas & Electric, Louisville
Louisville Insulation & Supply, Louisville
Owens-Corning Fiberglas, Louisville
Texas Gas Transmission Company, Owensboro
Owensboro Municipal Utilities, Owensboro
When it comes time to prove your claim to a trust or court, determining the source of exposure is a key element. Top Kentucky mesothelioma lawyers can help with this.
Know Your Rights: Kentucky Mesothelioma Lawsuits
No person should be poisoned and suffer from crippling medical debt because of a company's failure to keep them safe — but there is a way to fight back.
Through mesothelioma lawsuits, many Kentucky residents have secured funds for treatment and financial support.
Sometimes the best state in which to file your mesothelioma claim is not the state where you reside. Hiring a firm that has a nationwide reach can help ensure you file your claim in the proper venue.
Mesothelioma Settlements and Verdicts in Kentucky
Most mesothelioma lawsuits (over 95%) will be settled out of court. These mesothelioma settlements pay $1 million on average to victims. Most manufacturers of asbestos-based products will want to settle a lawsuit to avoid a trial.
In the rare event that a lawsuit goes to trial, a jury will hear both sides of the case and determine a verdict.
While mesothelioma trial verdicts can award anywhere from $5 million to $11.4 million on average, that's only if the jury sides with the asbestos victims. There is no way to guarantee a win through a trial.
The jury could also side with the manufacturer of asbestos-based products, in which case the victim gets no money.
To see if a settlement or trial is best for your case, contact a Kentucky mesothelioma lawyer today.
Kentucky Mesothelioma Settlements Recovered by Simmons Hanly Conroy
$3.69 millionNavy Veteran
$2.82 millionTruck Driver
$3.9 millionAuto Mechanic
$1.8 millionPipefitter
Fact-Checked
All Simmons Hanly Conroy settlement amounts have been fact-checked and verified by our editorial team.
Asbestos Laws and Regulations in Kentucky
Kentucky is governed by the major federal regulations that protect Americans from asbestos exposure.
These federal regulations include:
OSHA: Part of the Department of Labor, the Occupational Safety and Health Administration (OSHA) maintains certain asbestos standards concerning worker exposure.
NESHAP: The National Emission Standards for Hazardous Air Pollutants (NESHAP) were established by the Environmental Protection Agency (EPA) to keep the air free of toxins. NESHAP regulates the use and disposal of asbestos and mandates certification for companies involved with asbestos abatement.
AHERA: The Asbestos Hazard Emergency Response Act (AHERA) requires local education agencies to inspect school buildings and develop a response plan to reduce asbestos hazards.
Kentucky has also passed cancer presumption laws for first responders, but they do not apply to lung cancer, mesothelioma, or asbestosis.
This means a Kentucky firefighter who develops an asbestos-related disease after inhaling asbestos fibers may still have to file an asbestos lawsuit to access resources for treatment.
Along with these laws, the Kentucky Occupational Safety and Health Program and the Kentucky Division of Waste Management have additional regulations to promote workplace safety and asbestos disposal.
For asbestos removal in Jefferson County, additional restrictions may apply. Jefferson County is home to Louisville, which has the highest number of reported mesothelioma deaths per capita in Kentucky, according to the CDC.
Statutes of Limitations in Kentucky
In Kentucky, the statute of limitations determines how long a person or their family has to file a mesothelioma claim. Each mesothelioma case is different, and there are a number of factors that contribute to how Kentucky courts will interpret the statute of limitations.
Top Kentucky mesothelioma lawyers understand the seriousness of the disease and the importance of filing the case as soon as possible.
They can discuss the statute of limitations for mesothelioma lawsuits in Kentucky and make sure that you are aware of all possible routes to compensation.
In fact, the only assured way to know how long you have to file a claim is with the help of an experienced asbestos attorney.
Asbestos Trust Funds
If you can't file a lawsuit due to the statutes of limitations, you may be able to file a claim through an asbestos trust fund.
Asbestos trusts were established by the courts to handle the massive number of mesothelioma claims filed against companies that used asbestos widely during the 20th century.
Today, more than $30 billion is available in asbestos trust funds.
Such trusts may have a longer statute of limitations than the state of Kentucky itself. A Kentucky mesothelioma lawyer can help you figure out if pursuing asbestos trust funds is an option for you.
Kentucky VA Information for Mesothelioma Victims
Men and women who served in the Armed Forces before the early 1980s had an elevated risk of asbestos exposure. They may have been exposed to toxic dust in ships, vehicles, and bases, all of which used asbestos extensively.
Kentucky is home to several famous military bases:
Fort Knox
Fort Campbell
Fort Thomas (closed in 1964)
Asbestos is durable, heat resistant, and easy to work with. Every branch of the military found uses for it in brake pads, gaskets, insulation, building materials, and more. Roughly one-third of all mesothelioma patients are American veterans.
Kentucky VA Information
The U.S. Department of Veterans Affairs (VA) has resources available for veterans with mesothelioma and other asbestos-related diseases.
Mesothelioma VA benefits include:
Aid and attendance
Disability compensation
Hospice care
Survivor benefits
The VA also works with top mesothelioma doctors who can treat veterans through the VA health care system.
There are a number of VA facilities in Kentucky, including:
VA Inpatient Care Sites
Cincinnati VA Medical Center-Fort Thomas, Fort Thomas
Lexington VAMC: Cooper Division, Lexington
Lexington VAMC: Leestown Division, Lexington
Robley Rex VA Medical Center, Louisville
VA Outpatient Clinics
Hopkinsville, Kentucky OPC, Hopkinsville
Community-Based Outpatient Clinics
Bellevue Community Based Outpatient Clinic, Bellevue
VA Clinic Berea, Berea
Bowling Green VA Clinic, Bowling Green
Carrollton VA Clinic, Carrollton
Grayson County VA Clinic, Clarkson
Florence Community-Based Outpatient Clinic, Florence
Fort Knox VA Clinic, Fort Knox
Hanson Community-Based Outpatient Clinic, Hanson
VA Clinic Hazard, Hazard
Newburg VA Clinic, Louisville
Shively VA Clinic, Louisville
Stonybrook VA Clinic, Louisville
Mayfield Community-Based Outpatient Clinic, Mayfield
VA Clinic Morehead, Morehead
Owensboro Community Based Outpatient Clinic, Owensboro
Paducah Community Based Outpatient Clinic, Paducah
Prestonsburg VA Clinic, Prestonsburg
VA Clinic Somerset, Somerset
Veterans Centers
Lexington Veterans Center, Lexington
Louisville Veterans Center, Louisville
Veterans Benefits Administration Regional Offices
Louisville Regional Benefit Office, Louisville
Intake Site (Pre-Discharge Claims Assistance), Fort Knox
Intake Site (Pre-Discharge Claims Assistance), Fort Campbell
Depending on your exposure history, you may be eligible for VA benefits. Because your exposure likely happened decades ago, Kentucky mesothelioma lawyers can help you build your claim and file for benefits.
Service organizations like the American Legion (AML) and Veterans of Foreign Wars (VFW) can also help with submitting claims for VA benefits.
Work With Kentucky Mesothelioma Lawyers
Because of the nature of mesothelioma, which has a latency period that is 10-50 years long, you may not remember exactly when and where you were exposed to asbestos.
Even worse, when the signs and symptoms of mesothelioma finally present themselves, the cancer has often already progressed aggressively, leaving patients and their families with fewer options and very little time to act.
Thankfully, Kentucky mesothelioma lawyers can help patients quickly seek justice after their life-altering diagnosis and pinpoint where the asbestos exposure occurred.
If you are thinking of filing a mesothelioma claim in Kentucky, or you want to file on behalf of a family member, start a free case review now.
Find more information by your state below