Filing a Mesothelioma Claim in New Mexico
Anyone with mesothelioma cancer deserves compensation from the manufacturers of asbestos-containing products. These manufacturers knew asbestos exposure could cause deadly illnesses like mesothelioma but hid the facts for decades.
If you've been diagnosed with mesothelioma: Get a Free Legal Case Review Now
Nearly 300 New Mexico residents died from mesothelioma between 1999 and 2017, according to the Environmental Working Group (EWG).
You may be eligible to file a lawsuit to seek compensation from manufacturers if you developed mesothelioma. Work with an experienced New Mexico mesothelioma lawyer to get the most compensation possible.

New Mexico Mesothelioma Law Firm
Simmons Hanly Conroy is one of the nation's largest mass tort law firms. Their team of experienced attorneys is dedicated to helping victims of mesothelioma and other personal injuries find justice and hope.
Asbestos companies knew of the dangers of their products and chose to say nothing while they continued to profit. Thousands of New Mexicans were exposed.
Our sponsor firm has recovered hundreds of millions of dollars in compensation for those who were exposed to asbestos and were later diagnosed with mesothelioma or other asbestos-related illnesses.
Asbestos Exposure Sites in New Mexico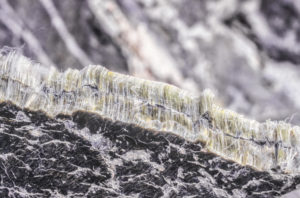 Naturally, occurring asbestos has been reported in at least sixteen New Mexican mining districts. Asbestos is often present in mines and in the air when coal is extracted. This puts New Mexican coal miners at risk of exposure and mesothelioma.
Mines are not the only places in New Mexico where asbestos is still lurking. Construction workers used asbestos to make thousands of buildings before the 1980s. Renovating or demolishing these older buildings could disturb the asbestos inside.
Asbestos-containing products like insulation were also used in the Four Corners Power Plant near Fruitland, New Mexico, and other power plants across the state.
Other examples of asbestos sites in New Mexico include:
Burn Construction, Las Cruces
Chevron/Gulf Oil, Hobbs
Federal Building, Albuquerque
Kennicott Copper Mines, Hurley
National Mine, Carlsbad
Socorro Mines, Silver City
Shell Oil Company, Gallup
Marathon Oil Company, Carlsbad
Municipal Power Plant, Tucumcari
Kerr McGee Potash Mine, Carlsbad
New Mexico State Hospital, Las Vegas
University of New Mexico, Albuquerque
Columbia Asbestos Company, Albuquerque
Texas-Louisiana Power Company, Alamogordo
Stearns-Roger Manufacturing Company, Gallup
Albuquerque Gas Electric, Bernalillo, Albuquerque
Albuquerque Cerrillos Coal Company, Albuquerque
New Mexico Light, Heat and Power Company, Silver City
United States of America Cantonment Construction, Deming
Four Corners Power Plant, Fruitland, Farmington, Four Corners
If you developed mesothelioma after being exposed to asbestos at one of the above job sites or another site, contact a New Mexico mesothelioma attorney today.
These attorneys can help determine where you were exposed to asbestos. Lawyers can also see if you qualify for financial benefits to cover medical expenses.
Know Your Rights: New Mexico Mesothelioma Lawsuits
A mesothelioma lawsuit offers the best opportunity for victims to access compensation for their injuries. Successful lawsuits force manufacturers to pay for causing a victim's mesothelioma.
Victims and their families can recover millions of dollars in compensation through mesothelioma lawsuits.
When you work with a New Mexico mesothelioma lawyer, it costs you nothing to file these lawsuits. These attorneys also take on most of the legal burdens that come with filing and pursuing a lawsuit.
Mesothelioma Settlements and Verdicts in New Mexico
More than 95% of all mesothelioma lawsuits reach settlements before the case goes to trial. Mesothelioma settlements typically average between $1 million and $1.4 million.
Settlements are preferred because otherwise, the case may go to trial. Trials add time and risk to a lawsuit.
During a trial, a jury will hear all the facts of a case and hand down a verdict. There is no way to guarantee that a jury will find that a mesothelioma victim deserves any compensation.
Yet some mesothelioma verdicts award more than settlements.
A jury recently awarded the widow of a New Mexico auto mechanic $9.1 million. The mechanic died from mesothelioma after spending years repairing asbestos-laden brakes and clutches.
New Mexico mesothelioma lawyers can negotiate settlements and prepare cases to go to trial if needed.
New Mexico Mesothelioma Settlements Recovered by Simmons Hanly Conroy
$3.3 millionNavy Veteran
$1.5 millionMechanic
$2.73 millionAir Force Veteran
$1.6 millionUnion Electrician
Fact-Checked
All Simmons Hanly Conroy settlement amounts have been fact-checked and verified by our editorial team.
Asbestos Laws and Regulations in New Mexico
The state of New Mexico follows several federal asbestos laws to keep residents safe.
These asbestos laws include:
Federal Clean Air Act (CAA)
Toxic Substances Control Act (TSCA)
Asbestos Hazard Emergency Response Act of 1986 (AHERA)
Asbestos School Hazard Abatement Reauthorization Act (ASHARA)
National Emissions Standards for Hazardous Air Pollutants (NESHAP) for Asbestos
Violators of these asbestos rules face penalties of up to $15,000 per violation and for each day of noncompliance.
Reach out to a New Mexico mesothelioma lawyer to see how these laws may impact your case.
Statutes of Limitations in New Mexico
Mesothelioma lawsuits must be filed within legal time frames called statutes of limitations. Yet these laws vary by state and case type (personal injury, wrongful death, etc.), making them difficult to understand.
Mesothelioma lawsuits cannot be filed after the statute of limitations passes.
Thankfully, New Mexico mesothelioma lawyers can file your case within the statute of limitations.
Asbestos Trust Funds
If you can't file a mesothelioma lawsuit due to the statutes of limitations, you could still get compensation through an asbestos trust fund.
Bankrupt manufacturers established asbestos trust funds to pay mesothelioma victims and avoid constant lawsuits. Since the manufacturers manage these trusts, they also set the deadlines to file claims.
Manufacturers have set aside $30 billion in asbestos trust funds.
New Mexico mesothelioma lawyers can help you or a loved one file an asbestos trust fund claim or a mesothelioma lawsuit within set deadlines. Learn more with a free case review.
New Mexico VA Information for Mesothelioma Victims
New Mexico veterans also can develop mesothelioma since the U.S. military used asbestos in bases, ships, and vehicles until the 1980s. In fact, veterans make up 33% of all mesothelioma cases today.
Fortunately, federal agencies like the U.S. Department of Veterans Affairs (VA) can help veterans with mesothelioma access disability compensation and other benefits.
Key VA benefits include:
Aid & Attendance
Burial & funeral services
Health care
Pension plans
The VA also works with top mesothelioma doctors to treat veterans with this rare cancer.
These VA mesothelioma doctors include:
Disclaimer
Mesothelioma Hope has no affiliation with and is not endorsed or sponsored by Dr. Robert B. Cameron. The contact information above is listed for informational purposes only. You have the right to contact Dr. Cameron directly.
Visit the UCLA Health website to learn more about Dr. Robert Cameron
.
Disclaimer
There are many VA offices and healthcare centers in New Mexico. Contact those on the list below by going to the VA's official website (va.gov).
Veterans Benefits Administration
Albuquerque Regional Office, Albuquerque
VA Medical Centers
New Mexico VA Health Care System, Albuquerque
Community-Based Outpatient Clinics
Baton Rouge Outpatient Clinic (North Clinic, South Clinic)
Alamogordo CCBOC
Artesia Clinic
Clovis CBOC
Espanola CCBOC
Farmington CBOC
Gallup CBOC
Hobbs CBOC
Las Cruces CBOC
Las Vegas CCBOC
Raton CBOC
Northwest Metro (Rio Rancho)
Santa Fe CBOC
Silver City Clinic
Taos CCBOC
Truth or Consequences CCBOC
Veterans Centers
Albuquerque Veterans Center
Farmington Veterans Center
Las Cruces Veterans Center
Santa Fe Veterans Center
Veterans with mesothelioma can file a VA benefits claim with help from New Mexico mesothelioma lawyers. These lawyers can determine when, where, and how a veteran was exposed to asbestos during their service.
Veterans can then take this information and file for VA benefits with help from a Veterans Service Officer (VSO).
AML and VFW Service Officers in New Mexico
VSOs with organizations such as the American Legion (AML) and Veterans of Foreign Wars (VFW) are trained by the VA to help veterans access military benefits.
The AML, VFW, and other veteran organizations have offices throughout New Mexico.
These offices include:
Albuquerque
American Ex-Prisoners of War
American Legion
American Veterans
Disabled American Veterans
National Association of County Veterans Service
New Mexico Department of Veterans Services
Paralyzed Veterans of America
Veterans of Foreign Wars
Santa Fe
New Mexico Department of Veterans Services
Reach out to these offices to get in touch with a VSO near you. You can also contact a New Mexico mesothelioma law firm to see if you qualify for legal compensation.
Connecting With Mesothelioma Lawyers in New Mexico
If you have mesothelioma, you deserve the best legal help available. Let a New Mexico mesothelioma attorney handle your lawsuit today.
New Mexico mesothelioma lawyers can help you:
Establish where and when you may have been exposed to asbestos
Understand the statute of limitations in New Mexico
File mesothelioma lawsuits and secure compensation
See all the ways New Mexico mesothelioma lawyers can help you with a free case review.
Find more information by your state below