Mesothelioma & Asbestos Risks in Maine
If you live in Maine, you are likely aware of the state's ongoing problems with asbestos.
If you've been diagnosed with mesothelioma: Get a Free Legal Case Review Now
An enormous Navy shipyard, a massive paper industry employing thousands, tens of thousands of veterans, and some of the oldest homes in the country have contributed to making asbestos a serious risk to Maine residents.
Maine is home to two military bases built with asbestos:
Naval Air Station Brunswick
Portsmouth Naval Shipyard
A number of commercial shipyards along the coast have also been sources of exposure for victims. Shipbuilding is one of the most dangerous industries for asbestos exposure, but it is also one of the biggest sources of employment in Maine.
Paper mills have also long been a cause of asbestos contamination, and there are dozens in Maine.
Between the 1930s and early 1980s, many were built and fitted with asbestos-containing machinery and insulation. This likely exposed thousands of workers to the cancer-causing substance and may still pose a risk at decommissioned mill sites.
Finally, with about one-third of its housing units built before 1950, Maine residents face a high risk of asbestos exposure. Asbestos was not phased out as a construction material until the 1970s, so even homes built in the 1960s and early 1970s likely contain asbestos.
If you or a loved one were diagnosed with mesothelioma or another asbestos-related illness, a Maine mesothelioma lawyer may be able to help you receive the financial compensation you deserve.
Maine Mesothelioma Lawsuits
Maine residents who have been exposed to asbestos and developed mesothelioma or other asbestos-related diseases may be eligible to pursue compensation through a mesothelioma lawsuit.
Maine mesothelioma lawyers have helped numerous families secure valuable resources through mesothelioma lawsuits.
Mesothelioma Settlements and Verdicts in Maine
Over 95% of all mesothelioma lawsuits reach out-of-court settlements. In a settlement, the manufacturers of asbestos-based products agree to pay mesothelioma victims for the harm that was done. In exchange, the case does not go to trial.
On average, mesothelioma settlements award victims $1 million.
When a settlement cannot be reached, the lawsuit may go to trial before a jury. The jury hears both sides of the case and hands down a verdict.
Mesothelioma verdicts award $2.4 million on average if the victim wins. There is no way to guarantee a win at a trial. Juries may also side with the manufacturer of asbestos-based products, in which case the mesothelioma victim gets nothing.
A Maine mesothelioma attorney can negotiate settlements and prepare your lawsuit for a trial if needed.
Maine Mesothelioma Settlements Recovered by Simmons Hanly Conroy
$3.6 millionFactory Worker
$3 millionNavy Veteran
$2.73 millionAir Force Veteran
$1.5 millionElectrician
Fact-Checked
All Simmons Hanly Conroy settlement amounts have been fact-checked and verified by our editorial team.
Maine Statutes of Limitations
Every state has its own statute of limitations, which determines how much time a person has to file a legal claim. For mesothelioma and other asbestos-related diseases, the laws are especially complicated.
There are two main types of mesothelioma lawsuits:
Personal injury lawsuit: Filed when a living person with mesothelioma sues the company or companies responsible for their exposure to asbestos.
Wrongful death lawsuit: Occurs after a mesothelioma patient has died and is usually filed by surviving family members.
Maine has a relatively long statute of limitations for personal injury lawsuits, but every case is different.
Consult a Maine mesothelioma attorney to file a lawsuit within the statute of limitations. Mesothelioma lawsuits cannot be filed after the limits have passed.
Asbestos Trust Funds and Statutes of Limitations
If the statute of limitations prevents a lawsuit from being filed, there are other ways to access compensation. Asbestos trust funds, for example, don't abide by state law. They are set up by federal courts and have their own deadlines for filing claims.
There is more than $30 billion available in asbestos trust funds today.
Learn how to access asbestos trust funds and file lawsuits within the statutes of limitations with the help of a Maine mesothelioma lawyer.
Maine Asbestos Laws and Regulations
In addition to federal laws and regulations surrounding the use of asbestos, Maine has a number of state laws that govern the proper handling and removal of asbestos, as well as licensing for asbestos abatement professionals.
It is illegal to engage in any kind of asbestos abatement activity unless licensed or certified by the state of Maine.
Maine has also established rules meant to limit or curtail the presence of asbestos in schools. The Maine Department of Environmental Protection performs periodic inspections of non-profit schools in the state, with the goal of identifying and protecting against any asbestos hazards.
Certain federal laws and regulations are also in place surrounding the use, development, and disposal of asbestos and asbestos-containing materials.
Beginning in the early 1970s, federal laws were enacted to control or phase out the use of asbestos for industrial or commercial purposes, such as the Toxic Substances Control Act (TSCA) and amendments to the Clean Air Act.
Asbestos Exposure Sites in Maine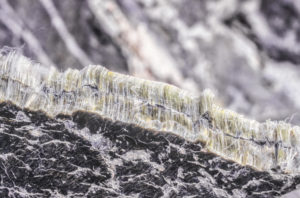 With the highest mesothelioma mortality rate in the country, Maine residents have faced — and continue to face — a unique risk of asbestos exposure.
Most mesothelioma victims were exposed to asbestos at one of a number of shipyards or shipbuilding facilities dotting Maine's massive coastline.
For decades, asbestos was used in shipbuilding to insulate pipes and boilers and to prevent the corrosion of metal parts.
Eventually, enough asbestos dust built up to pose an airborne risk to workers, and poor ventilation aboard ships and construction sites worsened the threat.
Military bases are another common source of asbestos exposure. The cancer-causing mineral was frequently used for fireproofing and insulation on bases well into the 1970s.
Asbestos has also been reported in a number of houses, power plants, paper mills, and iron foundries in Maine. The sheer number of workplaces and residencies that have been found to contain asbestos makes the threat in Maine especially severe.
Examples of asbestos sites in Maine include:
American Telephone Telegraph Company Andover Earth Station
Bangor Air National Guard Base
Bath Iron Works
Brunswick Naval Air Station
Carleton Woolen Company
Central Main Power Plant
Great Northern Paper Company
Loring Air Force Base
Maine Yankee Nuclear Power Plant
New England Insulation Company
New England Shipbuilding Corporation
Oxford Paper Company
Portsmouth Naval Shipyard
Rumford Paper Mill
Sanford Textile Mill
Union Chemicals Company
Some of these workplaces are no longer in operation or have been decommissioned. However, they are still liable for having exposed workers to asbestos.
Maine Mesothelioma Statistics
According to data compiled by the Journal of the American Medical Association (JAMA), the state of Maine suffered 381 mesothelioma deaths between 1999 and 2015.
In addition:
The Centers for Disease Control and Prevention (CDC) lists Maine as having the highest mesothelioma mortality rate in the country.
From 1999 to 2015, the annual death rate for mesothelioma in Maine was about 22 per million people.
The U.S. Geological Survey (USGS) reports at least 20 naturally occurring asbestos deposits in Maine — all in the counties of Aroostook, Franklin, Hancock, Oxford, and Somerset.
Compared with other states, the total number of mesothelioma deaths in Maine is far lower, mostly due to the state's relatively small population.
Until asbestos use is completely banned in Maine and other states, it will continue to put people at risk of mesothelioma and other life-threatening diseases.
Maine Veterans & VA Information
Shipbuilders, mill workers, and power plant workers are not the only Maine residents who have risked their lives working alongside a substance as dangerous as asbestos. Maine is home to more than 125,000 veterans, according to the U.S. Census Bureau.
Veterans account for around 33% of all mesothelioma cases diagnosed each year, and nearly 12% of Maine's population is made up of U.S. veterans.
Fortunately, for Maine veterans, help is available through mesothelioma lawsuits and the U.S. Department of Veterans Affairs (VA).
Maine Veterans Benefits
If you are a veteran with mesothelioma, you may have questions about whether or not you qualify for VA benefits.
Maine has options for veterans, including:
Disability compensation
Burial cost assistance
Elder care
Health care
Pension
Survivor benefits
Tax exemptions
Veterans can also access treatment from some highly skilled VA mesothelioma doctors, who are among the best in the country. In terms of veteran-specific care facilities, Maine is home to one VA Hospital in Augusta and ten VA Community Clinics.
The VA Community Clinics in Maine are:
Bangor VA Clinic
Calais VA Clinic
Caribou VA Clinic
Fort Kent VA Clinic
Houlton VA Clinic
Lewiston VA Clinic
Lincoln VA Clinic
Portland VA Clinic
Rumford VA Clinic
Other organizations like the Veterans of Foreign Wars (VFW) and the American Legion (AML) have service officers available that can help veterans with submitting a claim for VA benefits.
Work With Maine Mesothelioma Lawyers
Maine represents a unique threat in the fight against asbestos and mesothelioma. The state is home to more veterans and a higher rate of mesothelioma mortality than most others in the country.
Many Maine mesothelioma lawyers have devoted their careers to helping the men and women who were wronged by asbestos companies seek justice and compensation for their illnesses.
Call us for your free case review today and find out if you are eligible to file a mesothelioma claim in Maine.
Find more information by your state below