Working With a Utah Mesothelioma Lawyer
Working with a Utah mesothelioma lawyer may help veterans, civilian workers, and their loved ones get legal compensation for mesothelioma or other asbestos-related diseases they developed.
If you've been diagnosed with mesothelioma: Get a Free Legal Case Review Now
Thousands of Utah workers were exposed to asbestos at their jobs, and many have subsequently developed mesothelioma.
According to data compiled by the Journal of the American Medical Association, the state of Utah saw 259 mesothelioma deaths between 1999 and 2015.
With assistance from a Utah mesothelioma attorney, those impacted by asbestos-related diseases can take action after a devastating diagnosis.
Utah Mesothelioma Lawsuits
A Utah mesothelioma attorney helps victims get money through mesothelioma lawsuits. These lawsuits are filed against the manufacturers of asbestos-based products, who knew their goods were dangerous but said nothing.
Asbestos victims pay no upfront fees to file mesothelioma lawsuits. A Utah mesothelioma lawyer also does most of the legal work so victims can focus on staying healthy.
Mesothelioma Settlements and Verdicts in Utah
Most mesothelioma lawsuits reach out-of-court settlements valued at $1 million on average. A mesothelioma settlement allows asbestos victims to access money without taking the lawsuit to trial.
If the case does go to trial, a mesothelioma victim may still access compensation if a jury sides with them. Juries award mesothelioma verdicts valued between $5 million and $11.4 million, but some juries may award more or less.
A trial win is not guaranteed, though. Juries could side with a manufacturer of asbestos-containing products, in which case the mesothelioma victim gets no money.
Utah Mesothelioma Settlements Recovered by Simmons Hanly Conroy
$3.9 millionAuto Mechanic
$2.56 millionNavy Veteran
$1.54 millionCustodian
$1.2 millionElectrical Engineer
Fact-Checked
All Simmons Hanly Conroy settlement amounts have been fact-checked and verified by our editorial team.
Statutes of Limitations in Utah
Every state has its own statute of limitations, which determines how much time a person has to file a claim. When it comes to mesothelioma, the laws get particularly complex.
There are two main types of mesothelioma lawsuits:
Personal injury lawsuits are filed when a living person who has mesothelioma wants to hold the company or companies that caused their illness accountable.
Wrongful death lawsuits are typically filed by surviving family members or loved ones of mesothelioma victims.
In either case, the statute of limitations varies by state and the type of claim filed. Once the statute runs out, victims will not be able to file a claim.
Working with a credible Utah mesothelioma lawyer with a long, successful track record is one of the best ways to make sure that a claim is filed in time.
Asbestos Trust Funds and Statutes of Limitations
If the statute of limitations has run out to file a lawsuit, compensation may still be available through an asbestos trust fund.
Asbestos trust funds were created by bankrupt manufacturers of asbestos-containing goods. The federal court system forced these companies to make the trusts so mesothelioma victims could access compensation (as bankrupt companies cannot be sued).
Over $30 billion is now available in asbestos trust funds.
A Utah mesothelioma lawyer can help you file an asbestos trust fund claim today.
Utah Laws and Regulations for Asbestos Use
Utah mesothelioma lawyers understand the local laws and regulations surrounding asbestos use in the state.
Several state and federal agencies control the regulations that govern asbestos within Utah.
For the safe removal of asbestos, Utah adheres to the National Emissions Standards for Hazardous Air Pollutants (NESHAP), federal guidelines created by the U.S. Environmental Protection Agency (EPA).
Enacted by the Utah Department of Environmental Quality, the "Utah asbestos rule" sets specific standards for those who are involved in the processes of asbestos abatement.
Professionals who work with asbestos in Utah must have a state-issued license before beginning any demolition, renovation, or repair projects as legislated by NESHAP.
Any asbestos workers, typically known as "abatement contractors," must meet all requirements and pass an annual test in order to receive Utah asbestos certification and then apply for a license.
Once certified and licensed, workers must provide a notification to the state's Division of Air Quality (DAQ) at least 10 days before their asbestos work starts.
Utah mesothelioma lawyers understand the federal and state laws and regulations surrounding asbestos use.
Asbestos Exposure Sites in Utah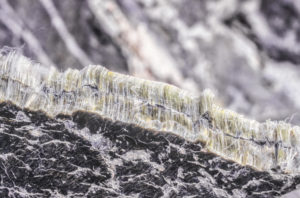 For Utah residents, several of the largest industries in the state — mining, agriculture, manufacturing, and oil production — used asbestos. Any of these job sites could have exposed workers to asbestos as part of their production processes or in their products.
Learn more about how these work sites put innocent people at risk of asbestos exposure below.
Oil Refineries
The oil industry is a significant user of asbestos for pipes and storage tanks, as asbestos can contain very flammable liquids.
These oil companies exposed their employees to asbestos:
American Oil Company
Amoco
Chevron
Utah Oil Refining Company
Chemical plants are notorious for the use of asbestos as well. Asbestos resisted many chemical reactions and thus was used by many chemical plants.
Chevron Chemical and National Lead and Chemical are examples of sites that are known to have also exposed their employees to the toxin.
Mining
Given the number of asbestos mines in Utah during the early-to-mid 20th century, miners ran the highest risk of mesothelioma and other asbestos-related diseases.
Much of this exposure took place at Tremolite No. 1 Mine, which was Utah's primary asbestos mine.
Miners at this mine were subjected to daily asbestos exposure as clouds of toxic dust rose up and enveloped workers.
The poor ventilation and air quality within Utah mines increased the chances that these miners would develop illnesses related to asbestos exposure.
These Utah mining companies exposed workers to asbestos:
Bingham Consolidated Mining
Empire Mining Company
Little Bell Consolidated Mining Company
Since Utah is home to several precious metal mines, miners and their families may have been exposed to asbestos naturally or through the machinery used to mine.
Steel Mills
The Sharon Steel Corporation is one of the longest-operating sites of base metal production, operating from 1906 to the early 1970s.
Large quantities of asbestos-containing materials were found at the site, as well as a number of contamination and leaks in the water and grounds surrounding the site.
Government Work
Due to the amount of asbestos used by the federal government, government workers and members of the U.S. military who lived and worked in Utah were also put at risk.
Federal buildings within Utah confirmed to contain asbestos are the Salt Lake City District Court, the Salt Lake City Circuit Court, and the Salt Lake Metro Jail, among other buildings.
Other Asbestos Exposure Sites in Utah
Given the widespread use of asbestos in dozens of industries before the early 1980s, Utah workers could have been exposed from many different sites across the state.
Other Utah job sites linked to asbestos exposure include:
Bingham Mining and Smelting Company
Bloomington Power Plant
Columbia Steel Company
Geneva Steel Mill
Geneva Works
Lake Side Power Plant
Metropolitan Hall of Justice
Millcreek Power Generation
Salt Lake City Circuit Court
Salt Lake Metro Jail
Sharon Steel Corporation
Steiner Corporation
Tesoro Refining Marketing
U.S. Steel Corporation
If you worked at any of these job sites and developed mesothelioma or another asbestos-related disease, contact a Utah mesothelioma lawyer. Compensation may be available. Call (866) 608-8933 to get started.
Utah Mesothelioma VA Information
Utah is also home to more than 130,000 veterans, and 33% of all mesothelioma cases diagnosed each year are in veterans.
Veterans are at high risk of mesothelioma because the U.S. military previously relied on asbestos for decades. The U.S. military used asbestos heavily in machinery, equipment, bases, and vehicles.
Fortunately for Utah veterans, help is available through the U.S. Department of Veterans Affairs (VA).
VA Benefits for Utah Veterans
If you are a
veteran with mesothelioma
, you may be able to access medical and financial VA benefits.
Utah has a number of different options for veterans, including:
Disability compensation
Health care
Pension
Veterans can also receive high-quality medical care from VA mesothelioma doctors.
In terms of veteran-specific care facilities, Utah is home to one VA inpatient care site, eight VA outpatient care sites, four Veterans Centers, and one VA Regional Office.
Other organizations like the Veterans of Foreign Wars (VFW) and the American Legion (AML) have service officers available that can help veterans with submitting a claim for VA benefits.
An attorney can help veterans learn more about VA resources available after a mesothelioma diagnosis.
Learn More About Utah Mesothelioma Lawyers
Many Utah workers who were exposed to asbestos decades ago are only now being diagnosed with mesothelioma and other asbestos-related diseases.
Victims of mesothelioma should get help from an experienced and specialized Utah mesothelioma lawyer to access compensation.
An experienced Utah mesothelioma lawyer has the knowledge and resources to successfully negotiate the highest possible settlements in the quickest period of time.
Lawyers at mesothelioma law firms have dedicated their lives to helping the men and women who were wronged by manufacturers of asbestos-containing products seek justice and compensation for their medical expenses.
A mesothelioma diagnosis is never the fault of the victim — the responsibility is tied to the companies who exposed their workers and the public.
To find out if you may be eligible to file a mesothelioma claim in Utah, start your free case review today.
Find more information by your state below