Filing a Mesothelioma Claim in New Jersey
Those who developed mesothelioma in the state of New Jersey may qualify for compensation from the manufacturers of asbestos-based products.
The only known cause of malignant mesothelioma is asbestos exposure. New Jersey companies like Johns-Manville made and sold asbestos-based products knowing they could get people sick.
Mesothelioma caused over 2,000 deaths in New Jersey between 1999 and 2017, according to the Centers for Disease Control and Prevention (CDC).
An experienced New Jersey mesothelioma lawyer help you pursue compensation through a lawsuit. When looking for a New Jersey mesothelioma attorney, it's important to select a firm with the experience, reputation, and resources to advocate for you.
Thankfully, Mesothelioma Hope has partnered with an experienced law firm that can help mesothelioma patients like you: Simmons Hanly Conroy.
New Jersey Mesothelioma Law Firm
Our sponsor firm, Simmons Hanly Conroy, is one of the nation's leading mass tort firms. They handle large-scale personal injuries — cases where big and powerful companies hurt dozens, hundreds, or thousands of unknowing people.
The attorneys at Simmons Hanly Conroy have decades of experience, and they aim to provide their clients with first-class legal services.
To date, the firm has recovered over $45 million on behalf of those with mesothelioma and other asbestos-related diseases in New Jersey alone. A few of the firm's recent mesothelioma settlement amounts are highlighted below.
New Jersey Mesothelioma Settlements Recovered by Simmons Hanly Conroy
$4.4 millionAccountant
$3.4 millionMechanic
$2.1 millionCarpenter
$1.75 millionU.S. Navy veteran
Fact-Checked
All Simmons Hanly Conroy settlement amounts have been fact-checked and verified by our editorial team.
Asbestos Exposure Sites in New Jersey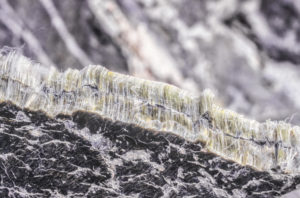 New Jersey is home to one of the most dangerous asbestos sites in the country. Johns-Manville built one of the largest manufacturing plants in the city of Manville, New Jersey.
The plant manufactured asbestos-based products from the 1930s to 1985 and once employed 4,500 workers — 40% of Manville, New Jersey's workforce.
While the plant was in business, asbestos fibers coated the town. Residents of Manville had a name for the white substance falling from the sky during this time: "snow."
Falling asbestos coated the following Manville structures:
Homes
Playgrounds
Schools
Former employees and families who developed asbestos-related diseases eventually filed more than 900 lawsuits against Johns-Manville.
The company established a $2.5 billion asbestos trust fund to pay victims and those who would later get sick (as asbestos-related diseases take decades to develop).
Manville isn't the only place that New Jersey residents may have been exposed to asbestos. Other work sites like construction areas and mines relied on asbestos-based products up through the 1980s. Asbestos also lurks in thousands of older homes and other structures today.
Other examples of asbestos exposure sites in New Jersey include:
Abbott Manufacturing, Norwood
American Sugar Refining Company, Jersey City
Armstrong Construction Supply, Elizabeth
Deepwater Power Plant, Deepwater
Johnson & Johnson Plant, New Brunswick
Minerals Asbestos Corporation, Port Chester
Minnesota Mining Company, Belle Mead, Freehold
New Jersey State Capitol Heating Plant, Trenton
New Jersey State Hospital, Ancora, Morris
New Jersey State Power Plant, Trenton
Princeton University, Princeton
Rutgers University Research Laboratory, Trenton
Simplex Automobile Company, New Brunswick
Singer Manufacturing Company (multiple locations across New Jersey)
Standard Motor Construction Company, Jersey City
Susquehanna Coal Company, Old Bridge
Todd Shipyard, Hoboken
U.S. Pipe & Foundry, Burlington
Westinghouse Electric and Manufacturing Company, Newark, Port Newark
Westvaco Mineral Products, Carteret
New Jersey mesothelioma lawyers maintain extensive databases of sites with a high risk of asbestos exposure in New Jersey and across the United States.
Know Your Rights: New Jersey Mesothelioma Lawsuits
A successful mesothelioma lawsuit forces manufacturers of asbestos-containing products to pay for harming workers and their family members.
Compensation from a lawsuit can help asbestos victims:
Cover funeral service-related costs
Offer long-term security for partners, children, and grandchildren
Pay for costly out-of-pocket medical expenses
Save money for the future
Filing a lawsuit with a top New Jersey mesothelioma lawyer is the best way for qualified residents to receive financial compensation for expenses and for their hardship.
It costs you nothing to file a lawsuit, and your New Jersey mesothelioma attorney will handle all of heavy lifting for you so you can focus on your health.
Who Is Eligible to File a Mesothelioma Claim in New Jersey?
In addition to New Jersey residents, mesothelioma patients who may have been exposed to asbestos while working in, living in, or visiting the state might qualify to file a claim for financial compensation.
Additionally, anyone who's been diagnosed with other serious asbestos-related diseases — such as lung cancer or asbestosis — may also qualify to file a claim with the help of a New Jersey mesothelioma attorney.
Even those who develop an asbestos-related disease later in life, such as mesothelioma, may be eligible to file a claim. Surviving family members may also be able to file a claim on behalf of a mesothelioma victim.
A New Jersey mesothelioma lawyer can explain how the state's laws and regulations impact someone's eligibility for different types of asbestos claims.
Mesothelioma Settlements and Verdicts in New Jersey
More than 95% of all mesothelioma lawsuits reach out-of-court settlements. A mesothelioma settlement concludes the lawsuit before it reaches the trial stage so asbestos victims get money faster.
Mesothelioma settlements typically award between $1 million and $1.4 million on average.
A case may go to trial before a jury if no settlement can be reached. A mesothelioma verdict is reached after the jury analyzes the facts of a case and determines whom, if anyone, is at fault.
While some mesothelioma victims receive nothing from these trial verdicts, others get more money than if the case reached a settlement. The average mesothelioma verdict ranges from $5 million to $11.4 million.
Notable New Jersey mesothelioma verdicts include:
$15 million to the family of a man who was exposed to asbestos in powdered joint compounds manufactured by Kaiser Gypsum
$7.8 million to a former truck mechanic's widow. Her husband was only 33 when he died and was exposed to asbestos from truck brake pads
$2.38 million to the widow of a factory worker who was exposed to asbestos-based products in the workplace
$2.1 million to a 67-year-old man exposed to asbestos from pipe insulation. He developed asbestos lung cancer and now requires an oxygen machine to breathe
A New Jersey mesothelioma lawyer can see if a settlement or trial is better for your case.
Asbestos Laws and Regulations in New Jersey
New Jersey follows National Emission Standards for Hazardous Air Pollutants (NESHAP) for asbestos as set forth by the Environmental Protection Agency (EPA).
New Jersey has not received federal approval to make its own workplace safety and health rules. Therefore, Federal Occupational Safety and Health Administration (OSHA) asbestos exposure standards apply in the private sector.
Consult with a New Jersey mesothelioma lawyer to see how these laws could affect your case.
Statutes of Limitations in New Jersey
A statute of limitations is the time someone has to file a lawsuit, such as a personal injury or wrongful death mesothelioma claim.
Lawsuits filed after the statutes of limitations cannot be pursued in court — meaning victims lose out on the chance to get compensation.
Because this time period varies by state and other factors, you need an experienced New Jersey mesothelioma lawyer to explain how these statutes of limitations may affect your case. Otherwise, you could file your lawsuit after the statute passes.
Asbestos Trust Funds in New Jersey
In some cases, you can still access compensation even if the statute of limitations has passed in your case. For example, you could qualify for money from an
asbestos trust fund
.
Asbestos trust funds were set up by bankrupt manufacturers to pay mesothelioma victims and avoid lawsuits. Since trusts are funded by manufacturers, normal statutes of limitations do not apply.
Today, asbestos trust funds contain more than $30 Billion in total.
A New Jersey mesothelioma lawyer can help you file asbestos trust fund claims.
New Jersey VA Information for Mesothelioma Victims
Like those exposed to asbestos on work sites, veterans also run a high risk of mesothelioma. All branches of the U.S. military relied on asbestos until the early 1980s.
Over 6,000 veterans died from mesothelioma between 1999 and 2005. Veterans also make up 33% of all people diagnosed with mesothelioma today.
The military used asbestos to make:
Air Force planes
Barracks and bases
Jeeps, trucks, and tanks
Navy ships
New Jersey VA Benefits
The U.S. Department of Veterans Affairs (VA) knows that veterans with mesothelioma deserve the best care possible. The agency offers many benefits to help New Jersey veterans get medical care and compensation.
Notable VA benefits include:
Burial & funeral services
Disability compensation
Health care
Pension plans
Veterans can also access top medical treatments from some of the world's best mesothelioma doctors through the VA.
Two well-known VA mesothelioma doctors include:
Disclaimer
Mesothelioma Hope has no affiliation with and is not endorsed or sponsored by Dr. Robert B. Cameron. The contact information above is listed for informational purposes only. You have the right to contact Dr. Cameron directly.
New Jersey veterans can find local VA offices and health care centers in the list below. To contact these centers, visit va.gov.
Veterans Benefits Administration
Newark Regional Office, Newark
Earle Naval Weapons, Colt's Neck
Fort Monmouth, Fort Monmouth
Fort Dix, Fort Dix
Lakehurst Naval Air Engineering Station, Lakehurst
McGuire Air Force Base, McGuire AFB
VA Medical Centers
East Orange Campus of the VA New Jersey Health Care System, East Orange
Lyons Campus of the VA New Jersey Health Care System, Lyons
Community-Based Outpatient Clinics
Atlantic County CBOC (Northfield)
Burlington County CBOC (Marlton)
Cape May County CBOC
Cumberland County CBOC (Vineland)
Elizabeth CBOC
Hackensack CBOC
Hamilton CBOC
James J. Howard Community Clinic (Brick, NJ)
Jersey City CBOC
Morristown CBOC
Paterson CBOC
Piscataway CBOC
Sussex Outpatient Clinic (Newton)
Tinton Falls Community Based Outpatient Clinic
Veterans Health Clinic at Gloucester County (Sewell)
Westinghouse Electric and Manufacturing Company, Newark, Port Newark
Westvaco Mineral Products, Carteret
Veterans Centers
Bloomfield Veterans Centers
Lakewood Vet Center
Secaucus Vet Center
South Jersey Veterans Centers (Egg Harbor Township)
Trenton Vet Center (Ewing)
Veterans who wish to file for VA benefits should first work with a New Jersey mesothelioma lawyer. These attorneys can learn how, when, and where military asbestos exposure occurred.
With this information — and the help of a Veterans Service Officer (VSO) — veterans can file for VA benefits.
AML and VFW Service Officers in New Jersey
The VA trains VSOs to help veterans file for military benefits. These VSOs work with organizations like the American Legion (AML), the Wounded Warrior Project (WWP), and the Veterans of Foreign Wars (VFW) to help as many veterans as possible.
Veterans organizations have over 100 offices in New Jersey alone. Some of these include:
American Ex-Prisoners of War
American Legion
Disabled American Veterans
National Association of County Veterans Service
Jewish War Veterans of the USA
Marine Corps League
New Jersey Department of Military and Veterans Affairs
The Retired Enlisted Association
Veterans of Foreign Wars
Veterans of World War I of the USA
Vietnam Veterans of America
Wounded Warrior Project
Reach out to these offices to see how a VSO can help you. You can also contact a New Jersey mesothelioma law firm to file for legal compensation.
Connect With a New Jersey Mesothelioma Lawyer
A New Jersey mesothelioma lawyer can help you access financial compensation and get justice after a diagnosis.
An experienced New Jersey mesothelioma attorney can:
Identify the New Jersey work sites or locations where you were exposed to asbestos
Obtain medical and military records
Build an asbestos claim that maximizes your chances of securing compensation
File your claim within the proper New Jersey statute of limitations
To see all the ways a New Jersey mesothelioma lawyer can help your case, get a free legal case review today.
Find more information by your state below