Filing a Mesothelioma Claim in Wyoming
If you have mesothelioma, you may be entitled to compensation from the manufacturers of asbestos-based products.
For decades, these manufacturers intentionally hid the dangers of asbestos from the general public, putting numerous employees and families at risk of developing a life-threatening medical condition.
More than 100 Wyoming residents died from mesothelioma between 1999 and 2013, as noted by the Environmental Working Group (EWG).
If you or a loved one have been diagnosed with this cancer, a Wyoming mesothelioma lawyer can help you:
Trace your asbestos exposure
Calculate medical costs
Receive compensation
Thankfully, Mesothelioma Hope has partnered with an experienced law firm that can help mesothelioma patients like you: Simmons Hanly Conroy.
Wyoming Mesothelioma Law Firm
Our sponsor firm, Simmons Hanly Conroy, is one of the nation's leading mass tort firms. They handle large-scale personal injuries — cases where big and powerful companies hurt dozens, hundreds, or thousands of unknowing people.
The attorneys at Simmons Hanly Conroy have decades of experience, and they aim to provide their clients with first-class legal services.
To date, the firm has recovered over $13 million on behalf of those with mesothelioma and other asbestos-related diseases in Wyoming alone. A few of the firm's recent mesothelioma settlement amounts are highlighted below.
Wyoming Mesothelioma Settlements Recovered by Simmons Hanly Conroy
$3.9 millionAuto mechanic
$3.4 millionU.S. Navy veteran
$2.73 millionAir Force veteran
$2.53 millionMaintenance worker
Fact-Checked
All Simmons Hanly Conroy settlement amounts have been fact-checked and verified by our editorial team.
Asbestos Exposure Sites in Wyoming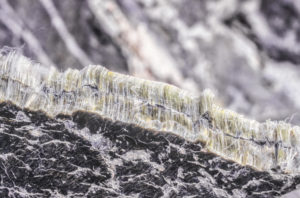 Asbestos sites can be found all over Wyoming. Notably, Wyoming was the site of several asbestos mining operations in the 20th century.
Wyoming asbestos mines included:
Casper Mountain
Fire King
Smith Creek
While asbestos is no longer mined in Wyoming, anyone who worked in these mines could be at risk of mesothelioma today. It takes 10 to 50 years for mesothelioma to develop after exposure to asbestos.
Today's coal miners are also at risk. Coal can become contaminated with asbestos, making the substance just as dangerous as asbestos dust.
Mines are not the only place where Wyoming residents could have been exposed. Wyoming construction sites and manufacturing plants relied on asbestos-based products for decades as well.
Additionally, older buildings and homes in Wyoming still contain asbestos today.
Other examples of asbestos sites in Wyoming include:
Allied Chemical Corporation, Green River
Amoco Oil Company, Casper
Atlantic City Ore Mine, Atlantic City
Atlantic Gas Plant, Riverton
Black Hills Power and Light Company, Gillette
California Pipeline Company, Laramie
Chevron Corporation, Evanston
El Paso Natural Gas Company, Opal Gas Plant, Opal
FMC Corporation Green River Trona Mine Processing Plant, Green River
Frontier Oil, Cheyenne
Husky Oil Company, Cheyenne
Mountain State Insulation, Green River
Municipal Airport, Cheyenne
Socony Mobil Oil, Casper
Union Pacific Railroad Company, Cheyenne
United States Bureau of Mines, Alumina Plant, Laramie
Wyodak Coal Mine, Gillette
A Wyoming mesothelioma lawyer can determine where you may have been exposed to asbestos. Wyoming mesothelioma lawyers maintain extensive databases of sites linked to asbestos in the state and across the nation.
Know Your Rights: Wyoming Mesothelioma Lawsuits
Wyoming mesothelioma lawyers can help secure compensation through a lawsuit. Mesothelioma lawsuits are filed against the manufacturers of asbestos-based products for harming innocent people.
Many mesothelioma victims have been awarded millions of dollars through lawsuits.
Wyoming residents have sued the following manufacturers for exposing them to asbestos:
Air & Liquid Systems
Allis-Chalmers Corporation
CBS Corporation
Chevron USA Inc.
Cleaver-Brooks Inc.
Foster Wheeler Energy Corporation
Georgia-Pacific LLC
Huntsman Petrochemical LLC
Riley Power Inc.
Texaco Inc.
Union Carbide Corporation
Zurn Industries LLC
When you work with a Wyoming mesothelioma attorney, it costs no money upfront to file a lawsuit. A Wyoming mesothelioma lawyer also does most of the legal work, so you will not be burdened by the process.
Who Is Eligible to File a Mesothelioma Claim in Wyoming?
In addition to Wyoming residents, mesothelioma patients who may have been exposed to asbestos while working in, living in, or visiting the state might qualify to file a claim for financial compensation.
Additionally, anyone who's been diagnosed with other serious asbestos-related diseases — such as lung cancer or asbestosis — may also qualify to file a claim with the help of a Wyoming mesothelioma attorney.
Finally, surviving family members, loved ones, or anyone with control over a mesothelioma victim's estate or power of attorney may also be able to file a claim.
With the help of a Wyoming mesothelioma lawyer, asbestos victims can see if they're eligible to receive compensation through a lawsuit.
Mesothelioma Settlements and Verdicts in Wyoming
More than 95% of mesothelioma cases end in a settlement. Mesothelioma settlements are negotiated and agreed upon before a trial.
Victims can expect to receive an average of $1 million to $1.4 million from mesothelioma settlements.
If the case doesn't resolve through a settlement, it may go to trial. In a trial, a jury determines a winner through a verdict after they hear the facts of a case.
The average mesothelioma trial verdict ranges between $5 and $11.4 million. That said, not every jury will agree that a mesothelioma victim deserves compensation. In these cases, the victim gets no money.
Statutes of Limitations in Wyoming
A statute of limitations refers to laws that limit the amount of time a person has to file a lawsuit.
If the statute of limitations has already passed in your case, you can never file a mesothelioma lawsuit to receive compensation.
Each state has its own statute of limitations related to filing lawsuits, so it is important to get in touch with a Wyoming mesothelioma lawyer to review your case and make sure you don't miss your chance to file.
Asbestos Trust Funds in Wyoming
Even if your lawyer determines that the statute of limitations has passed, there are other options.
For example, asbestos trust funds are funded by bankrupt manufacturers to help pay future claims. As such, they are not bound by state laws and set their own deadlines to file claims.
Many mesothelioma victims who have missed the chance to file a lawsuit could still get asbestos trust fund compensation.
Asbestos Rules and Regulations in Wyoming
State and federal governments regulate asbestos in Wyoming.
On October 26, 1993, Wyoming adopted the revised National Emission Standard for Hazardous Air Pollutants (NESHAP) regulation for asbestos renovation and demolition projects.
Wyoming has also adopted the federal standard for asbestos exposure in general industry, which includes:
Car brake and clutch repair
Custodial/janitorial work
Manufacturing of asbestos-containing products
The state does not have an accreditation program for asbestos abatement personnel, but the Wyoming Occupational Safety and Health Administration (Wyoming OSHA) helps make sure employers comply with federal OSHA rules and regulations.
The Wyoming OSHA requires that employers ensure that no employee is exposed to an airborne concentration of asbestos in excess of 0.1 fiber/cc of air as an eight-hour time-weighted average.
Many programs help keep workers safe in Wyoming, and state requirements must be at least as strict as federal requirements.
A Wyoming mesothelioma attorney can determine how these laws could affect your ability to file a lawsuit.
Wyoming VA Information for Mesothelioma Victims
Wyoming is home to tens of thousands of veterans. Many of them served in Vietnam or World War II when military asbestos use was common.
Every branch of the military heavily relied on asbestos-based products up through the early 1980s. As a result, about 33% of mesothelioma patients today are veterans.
However, the U.S. Department of Veterans Affairs (VA) can help.
Wyoming VA Benefits
The VA is one of the nation's largest providers of benefits and services for veterans with mesothelioma.
VA benefits include:
Burial benefits
Health care
Pensions
Veterans with mesothelioma can also access health care from specialists within the VA.
In Wyoming, the following offices and facilities are here to help. Contact these offices below by visiting va.gov.
Veterans Benefits Administration
Cheyenne VA Medical / Regional Office Center
F.E. Warren Air Force Base
VA Medical Centers
Cheyenne VA Medical Center
Sheridan VA Medical Center
Community-Based Outpatient Clinics
Casper Outpatient Clinic
Cody Outpatient Clinic
Gillette Outpatient Clinic
Newcastle VA Clinic
Riverton Outpatient Clinic
Rock Springs Outpatient Clinic
Veterans Centers
Casper Veterans Center
Cheyenne Veterans Center
An experienced Wyoming mesothelioma lawyer can help you get the right information need to file a VA benefits claim, helping you avoid delays in receiving your benefits.
Once your Wyoming mesothelioma attorney has prepared this information, you can connect with a Veterans Services Officer (VSO) in your area to file your benefits claim with the VA.
AML and VFW Service Officers in Wyoming
Veterans Service Officers (VSOs) are endorsed by the VA and other entities to assist veterans, their dependents, and survivors access military benefits.
VSOs may work with organizations such as:
American Legion
Disabled American Veterans
Legion of Valor of the USA
National Association of County Veterans Service
Veterans of Foreign Wars
Veterans of World War I
Wyoming Veterans Commission
Wyoming is home to more than 60 veterans service offices in cities and towns across the state, although most are located in Wyoming's largest cities.
Reach out to any of these offices to learn more about filing for VA benefits. You can also connect with a Wyoming mesothelioma lawyer about accessing financial compensation through a lawsuit.
Connect With a Wyoming Mesothelioma Lawyer
If you have been diagnosed with mesothelioma, you may be eligible to work with an experienced Wyoming mesothelioma attorney to seek compensation you deserve.
The legal journey can be overwhelming, but you have the option to allow a qualified Wyoming mesothelioma lawyer to navigate the system for you.
To learn more about your options, contact our team for a free, no-obligation case review. Our asbestos lawyers never charge upfront or out-of-pocket fees, and they get paid only if your case results in compensation. Get started with a free legal consultation.
Find more information by your state below